Navigation for News Categories
The trucking industry says its operators will have to pass on any increases in fuel costs to customers.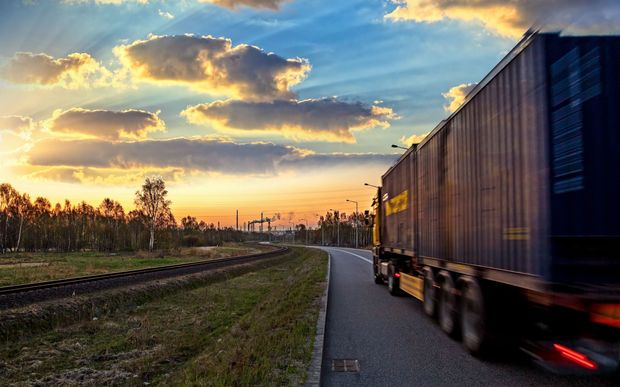 Photo: 123rf.com
Inflation hit 6.9 percent in the year to March, the biggest rise since mid-1990.
The soaring inflation rate is likely to put further pressure on road transport businesses already reeling from the global energy crisis.
The trucking association, Ia Ara Aotearoa Transporting, chief executive Nick Leggett said the sector has mainly small businesses with similar pressures to households that will need to pass on increased costs to their customers to remain viable.
"The thing for transport is it's a service provider, it's often the sort of the meat in the sandwich, it's got to ensure its full costs are charged to its customers because to keep a supply chain going we've got to have viable businesses."
He said the government's three-month discount for road user charges will help ease pressure on trucking business.
Infometrics principal economist Brad Olsen said government intervention and cutting fuel taxes for a period has meant that fuel costs have not increased as much as they could have.
"Petrol prices up I think 32 percent over the last year, but diesel which wasn't cut in terms of its taxes up 55 percent."
Olsen said a temporary cut in fuel tax helped to keep inflation below 7 percent but it will now have to consider when they remove that cut.
"The government now has to figure out when it whacks back on 25 cents a litre [to petrol] either that or they've got to continue to subside $350 million a quarter of infrastructure spending from debt funding."
Leggett said part of the cost pressures for the industry will be on wages.
"We're an industry that has been short of drivers prior to Covid, that only got worse with Covid. I think there's a problem in terms of losing staff to Australia."
Leggett said they worked with the government to start a traineeship to bring more people into the industry.
He said there are also issues for the industry to confront.
"Employers as well recognising that to keep people they've got to be engaged, they've got to be trained, they've got to be invested and obviously they've got to be paid."
Leggett said New Zealand is at the end of the supply chain so it costs more to get goods here.
"That supply assurance that we get from shipping is a bit more compromised as well, so there are lots of factors that are pushing costs up here."
Gull Petroleum general manager Dave Bodger said he has great sympathy for the trucking industry as diesel has increased in price by $75 a barrel since December which is a huge increase for a small business.
Smaller houses would boost supply of affordable homes – Chamberlain
Building costs are being singled out as a major contributor to the country's record inflation.
Olsen said construction costs have increased by 18 percent over the last year, which is the highest costs have been since the 1980s.
NZ Certified Builders chair Ian Chamberlain said builders must be properly trained and qualified to ensure that construction remains at a high standard.
It is important to make sure that a good number of apprentices are coming through, he said.
Chamberlain would like to see the government's Targeted Training and Apprenticeship Fund which offers free fees to continue beyond 1 July when it is set to end.
He said that increasing the build of smaller houses would boost the supply of more affordable homes.
"It's actually more sustainable and people can get on the property ladder if we're looking at smaller property sizes and some of that is down to, to supply the land doesn't actually allow some of those smaller properties to be built at the moment which pushes the costs up."
Chamberlain said building costs generally do not come down and generally the only cost that can be reduced is land costs.