Navigation to News Categories
Toyota New Zealand has partnered with several local businesses to launch the first commercially-available hydrogen-powered vehicle trial in New Zealand.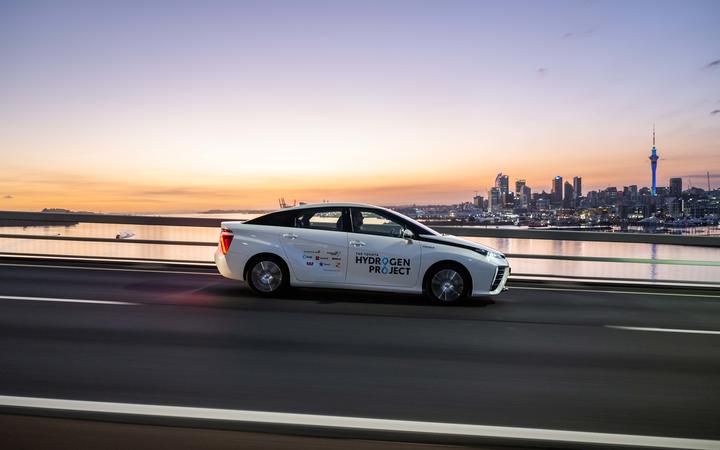 The Toyota Mirai will be used in the first commercially-available hydrogen-powered vehicle trial in the country.

Photo: Supplied / Toyota
The scheme will see five companies, including Spark, Air New Zealand and The Warehouse, contribute funding to the car sharing program to test two Toyota Mirai. There is the possibility of adding more vehicles over the three-month period.
The trial will begin in Auckland on May 1st, with the aim of determining if a zero-emission precinct can be established in the city.
The vehicles will be refueled at the Ports of Auckland using green hydrogen supplied by Halcyon Power and Obayashi Corporation in Japan, as well as H2H Energy Australia.
Toyota New Zealand general manager Andrew Davis said to RNZ that the trial was meant to show the public that hydrogen is an energy source that could be used in New Zealand.
" If we can show that we can make green hydrogen, then we can use it. We can also provide vehicles and share them with large organisations. This will allow us to reduce our environmental impact on New Zealand and the world. "
The trial will also look at the possibility of car-sharing between businesses to reduce emissions.
Toyota was enthusiastic about hydrogen's potential as a fuel source. He said it could store more energy in a smaller weight and was therefore suitable for vehicles with large payloads and long ranges.
Davis stated that the Mirai's fuel cell technology had many other applications it was interested in exploring.
" We will definitely be talking to partners about our role and how we can help in getting hydrogen power to the New Zealand market. "
The company admitted that the country's hydrogen infrastructure is still in its infancy. Therefore, the trial was launched in order to encourage greater investment in order to profit from the growing hydrogen export market.
Taranaki-based energy company Hiringa Energy announced last year that it was investing $50 million to build four green-hydrogen refuelling stations along key transport routes in the North Island.
The company had signed a deal with the US-based hydrogen vehicle company Hyzon Motors to bring 20 trucks into the country which would be owned and leased by the TR Group.
Hiringa expected the trucks and the fuelling stations to be operational by the end of 2022. It would provide hydrogen to the network, which would be manufactured at the refuelling stations.
However, trucks are expensive and refuelling costs can be high, which may be passed on to consumers.
Hiringa chief executive Andrew Clennett told RNZ in November that hydrogen-powered truck may not be competitive with their diesel counterparts in terms of price until 2025-2026.
Andrew Davis stated that key stakeholders will need to collaborate across multiple industries in order to scale up green hydrogen production to lower prices.
Channel Infrastructure, formerly known as Refining NZ, was alreadyexploring the possibility of developing a green hydrogen plant at its site after decommissioning large parts of its plant.
Meridian Energy and Contact Energy were also looking for investment partners to develop a green hydrogen production plant in Southland.